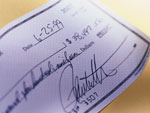 Since the implementation of Check 21, there has been an 85% reduction in bounced checks.  This is because when you scan a customer's check into your payment terminal, we convert it into an electronic transaction as an ACH payment.
If there are insufficient funds in a customer account when their check is presented, the transaction will not be approved.  However, there is a small chance that the customer can inadvertently overdraw their account before the bank physically transfers the funds to ACH even though the transaction was approved.  This is not usually a problem for merchants because ACH will electronically re-present the NSF check an additional two times over a four day period.  Most of the time, the customer realizes their error and makes the necessary funds available to cover the check.
In the rare event that a customer is unable to have funds available for an electronic NSF check recovery, Metro Payment Technologies' collection department will help recover the face value of the check.  This gives our merchants the peace of mind and confidence to offer check payment options to their customers. For more details about our collection procedures and check payment terminal, contact a Metro Merchant Services representative today at (800) 771-3719.