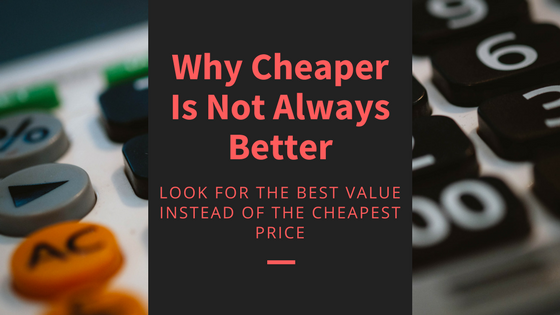 There's an old saying in the sales business; "If you get it on price, you'll lose it on price". We cannot tell you how many times this has rang true. Let's face it, payment processing is a commodity and merchants are inundated daily with companies soliciting their business. Offering savings that seem enticing but are not at all realistic. How can you tell the difference between a reputable, well-respected company or someone doing a "hit and" run on you? This industry is very transitional and very few sales reps last for any length of time. And those that do, generally don't really understand the business and how pricing works.
What's Your Preference? Motel 6 or Marriott?
Pricing is usually based on quality. Simple as that. For instance, McDonald's or Red Robin Burgers; Cadillac vs. Hyundai; or Heinz Ketchup vs. Store brand. Basically, the question is do you settle for something or do you spend a little more to get quality?
Similar But Not The Same 
When you are traveling and looking for a place to stay overnight, Motel 6 offers a room with a bed, TV, and bathroom. On the other hand, so does the Marriott. They have all the same 3 amenities probably in the same size room but what might be different? It's the quality of the amenities offered. For instance, the quality of the bed linens and bed at Motel 6 would be significantly less quality than the Marriott. Same with the towels and other items in the room. Motel 6 doesn't offer a continental breakfast whereas Marriott usually does.
You Just Can't Be the Best and the Cheapest 
Obviously, the room rate at the Marriott is much higher than Motel 6. But you know what you are paying for. Motel 6 rates wouldn't cover the expense of the upgraded amenities you get at the Marriott which is why their prices are much lower. You can only provide a high level of service by maintaining a pricing structure that allows you to maintain a higher status with your service and offerings.
Credit Card Processors are the Same 
Credit card processors operate in much the same way as any other business. In order to maintain the White Glove Service, the pricing must be set to cover these costs. Metro hires talent and fully trains their staff to understand the business as well as providing strong support to help them be successful. We don't do gimmicks like offer low cheater rates and then bump them up within the first few months because we are losing money. In some cases, Metro may not be the "cheapest" game in town but what you do get is quality customer service. What is your time worth spending hours trying to resolve a simple processing issue vs. one phone call to Metro? We perform rate reviews daily for existing merchants as well as potential ones. Very few potential merchants have such great deals that we are not able to beat them. However, when merchants are willing to have a rate review performed, there is usually more to the story than just price. This is where Metro excels. We also have existing merchants who send us rate analysis/proposals from competitors that are bogus. The savings are unrealistic but most merchants don't know this. They are counting on the sales rep to be honest. Unfortunately, there are more in our industry that doesn't do it right than those that do.
Just like in your business, there are always those individuals nipping away at your heels trying get better pricing or try to lure your customers away. We never like to lose merchants to a competitor simply because of price. We know that they will, in most cases, regret the decision since they have become accustomed to our level of service and won't get it by switching. There's always a trade-off. Do you lower your prices to your customers because they complain? Probably not. You may offer a discount here and there, but you cannot sustain those lower prices over time. A good example is Apple. They offer set pricing and rarely if ever offer discounts on their products. But their products sell because of the quality and their Apple Care program.
So, the questions are:
What will you settle for?
What do you demand? Prefer? What are you accustomed to?
Are you willing to lower your standards because someone offers you a lower rate?
Don't get scammed by a "teaser" rate! Call Metro Merchant Services Today 800-771-3719